From a geographical view, China has five major kitchen cabinet industry regions. These are Pearl River Delta (PRD), Yangtze River Delta (YRD), Bohai Rim, Northeast and Southwest Furniture Industry Regions. Chinese kitchen cabinet production is large and has been concentrated in five major regions. These regions have accumulated 90% of the country's overall production capacity.
The first 4 regions are dominated by export manufacturing and large-scale production, which is the primary industry for supplying the Chinese market as well as cabinet exports, while the Southwest region is mainly for the domestic market.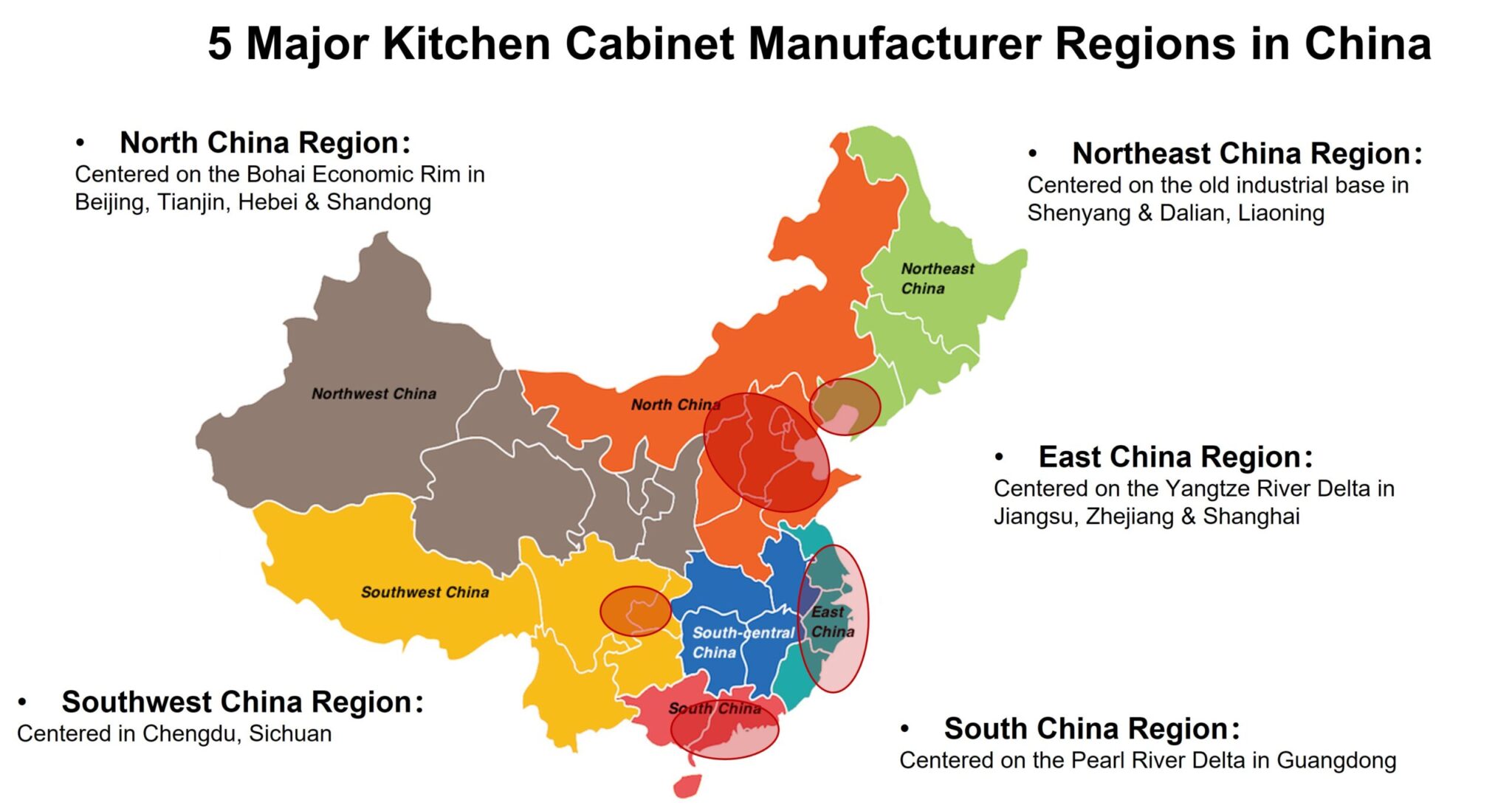 South China Cabinet Manufacturing Industrial Region
Region: Centered on the Pearl River Delta in Guangdong
Advantages: Industrial Clusters, Industrial Supply Chain, and Brand
With Guangzhou, Shenzhen, Dongguan, and Foshan in Guangdong provinces as the center, it is the largest kitchen cabinet industrial region in China.
In addition to having the advantage of an earlier start in kitchen cabinet manufacturing, the Pearl River Delta region has access to a lot of labor and plentiful capital for investment. This area also has many industrial clusters, an advanced industrial supply chain, and close proximity to Hong Kong & Macau which offers brands many opportunities for international promotions. The output value of cabinet production from this area accounts for one-third of the country's total, and most of the products are exported to the American market.
Guangdong is the dominant location for kitchen cabinet making and sales in China. It takes advantage of its strengths, and integrates modern technology to continuously improve the quality and tech level of the industry, keeping it competitive. Shunde District in Foshan City is being developed as a base that integrates business operations such as cabinet production, sales, support, and wholesale. Lecong became a cabinet distribution center and Longjiang became an important furniture production center in the southern region which has created a need for cabinet manufacturing and supporting materials.
East China Cabinet Manufacturing Industrial Region
Region: Centered on the Yangtze River Delta
Advantages: product quality and business management
With Jiangsu, Zhejiang, and Shanghai as the center, it is the fastest-growing region in the cabinet industry. Factors like the region's developed IT technology and convenient transportation have been contributing to its recent growth. Moreover, this region has a profound cultural heritage and a good manufacturing industry foundation. The fact that it also has relatively concentrated industrial talents makes it one of the best regions for those who wish to enter this industry.
The cabinet market in this area is rather large and quality products are readily available. The kitchen cabinet companies also makes great efforts at managing its business well. The output value of these cabinets is one-third of the country's and mainly exported to Europe and the US.
In terms of economic development and industrial structure, the cabinet industry in Zhejiang has been changing at a fast pace. The cabinet industry in the province has shown five major characteristics: rapid expansion of scale, prominent structural adjustment, obvious industrial structure, rich sales models, and continuous enhancement.
North China Cabinet Manufacturing Industrial Region
Region: Centered around the Bohai Rim
Advantages: enterprise scale and market demand
Taking Beijing as the center and relying on Tianjin, Hebei, and Shandong, the cabinet manufacturing industry is mainly developed in the entire Bohai Economic Rim.
This region of the country has a long history of cabinet manufacturing, and also has rich materials & natural resources as well as a prime location. A mature and professional cabinet industry is prevalent in the North China region, with a lot of high-quality producers and large-scale enterprises. The cabinet sales market is also congested due to the concentration of these industries. Meanwhile, their products are mainly for domestic sales.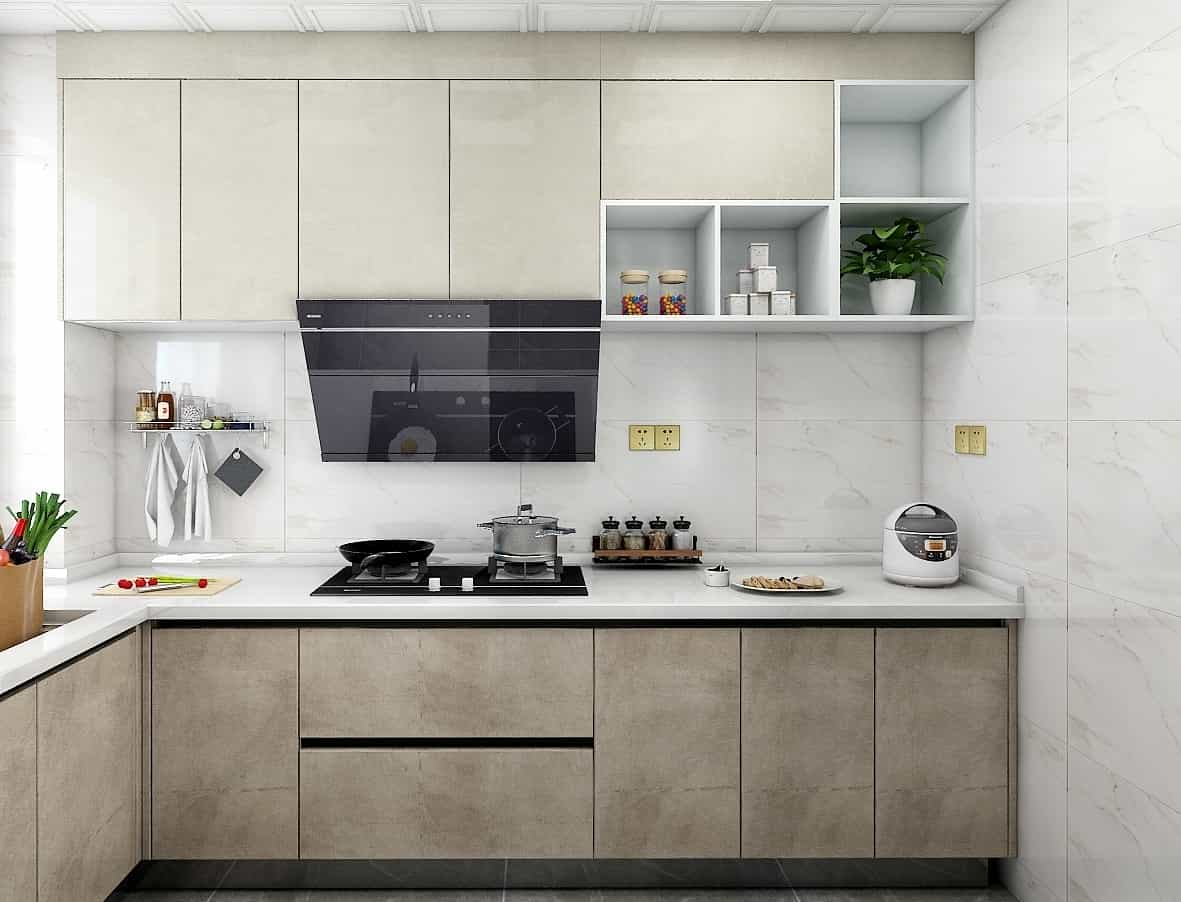 Northeast China Cabinet Manufacturing Industrial Region
Region: Centered on the old industrial base in Northeast China
Advantage: solid wood furniture production and timber resources
The industrial region mainly covers the cities in Shenyang, Dalian, and the surrounding cities. It has expanded to cover the cities in Heilongjiang province and other old industrial bases in Northeast China. This region mainly relies on the rich timber resources of the Greater and Lesser Khingan Mountains, as well as imported timber from Russia to develop solid wood furniture production companies. In terms of production ability, the solid wood cabinet industry in this region is at a leading position in China. Wood cabinet manufacturing enterprises in this region focus on exporting to the Northeast Asian and European markets. Their domestic market share is lower than that of other regions in China.
The Shenyang market is home to the production and distribution of furniture in Liaoning. It also distributes in regions like Northeast China and Inner Mongolia. Dalian is China's largest port city with a huge export production base of solid wood cabinets and supports a wide variety of products and complete supporting facilities.
Harbin, Qiqihar, Jiamusi, Yichun, and Mudanjiang are all industrial towns of Heilongjiang that have turned into a "cabinet manufacturing industrial cluster" and have built a diverse industrial structure of solid wood cabinets and panel cabinets.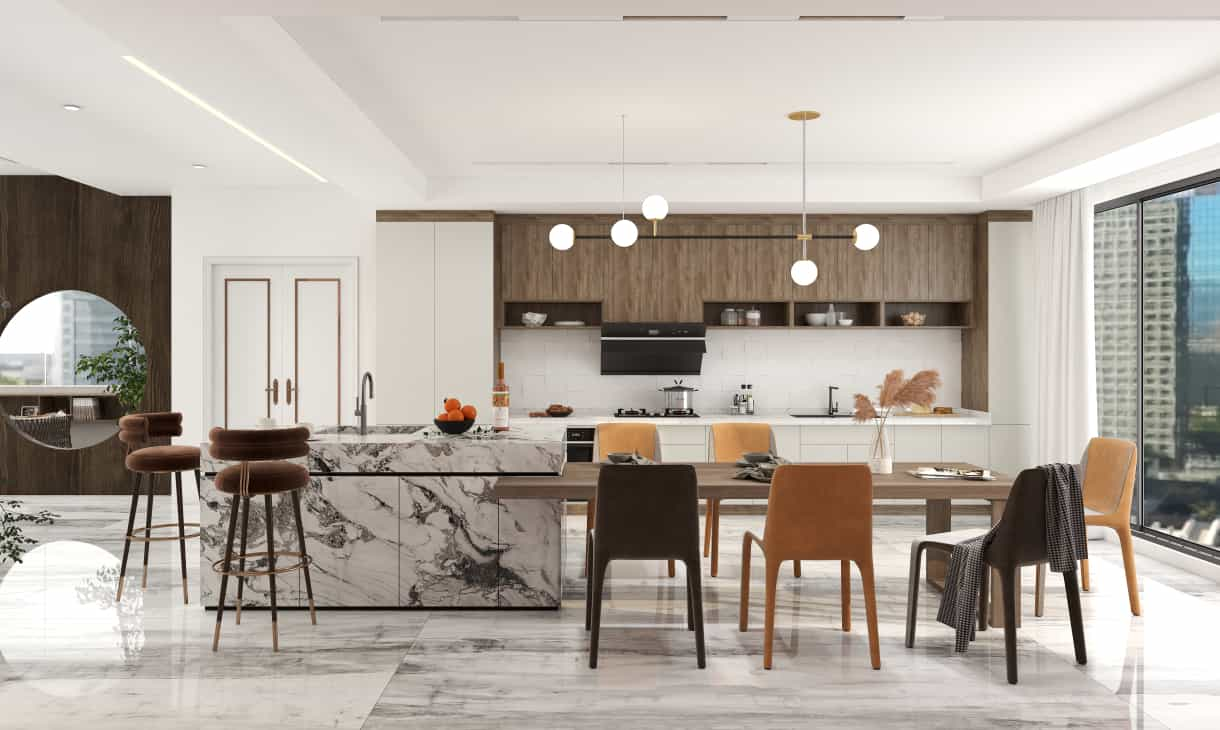 Southewest China Cabinet Manufacturing Industrial Region
Region: Centered on Chengdu, in Sichuan
Advantages: supply tertiary market products
This region has its main focus on Chengdu city in Sichuan and it is geared toward the tertiary market in central and western provinces. This means that the initiative for this sector is more focused, which makes it easier for manufacturers to grow. The local government listed the cabinet industry as a pillar industry while providing preferential policies and simultaneously resolving the problems of cabinet manufacturing companies in terms of land acquisition, loans, and employment.
This industrial region is favored by coastal cabinet manufacturing enterprises because of its mature and convenient logistical foundation, which is an advantage due to the strong inland transport network and favorable geographic conditions in place. In addition, with the development of inland cities, there is creating demand for customized kitchens, which is creating a rise in the market for cabinets. With the advancements in technology, cabinet-making has been able to take over the coastal areas, an innovation that is helping to alleviate issues surrounding industrial relocation. In the transfer, the local cabinet company gained market share with its logistics advantages and formed an industrial plan based on the industrial region as a strong foundation.
We are here to help you with your business needs. We have a team of experts who are always eager to help you.