Introduction to Chinese Kitchen Cabinet Industry
As one of the subdivisions of China's furniture manufacturing industry, Chinese kitchen cabinet industry has gained widespread attention from global consumers due to its ranking and rapid development in recent years.
Nowadays, China is not only the world's largest exporter of kitchen cabinets but also its largest manufacturer. According to CSIL statistics, China accounts for 39% of global kitchen cabinet production, 18 percentage points higher than the second largest country, the United States. Instead of focusing on traditional cabinet manufacturing, innovative Chinese cabinet manufacturers set a new standard for the custom cabinet industry. Their use of unique materials and technological innovation has caused a deep impact on the home cabinet market all over the world.
Today, AI technologies have experienced a lot of success in the Chinese cabinet industry. They have been used for RTA cabinets and pre-assembled cabinets for a long time now. It is true that many cabinet manufacturing companies in China have been very successful in the production of new technology. They have a lot of agility and skill sets to learn about new things as well. The impact that China's kitchen cabinet makers have on the global stage has always been important. They've led technological innovations internally and got a level of export strength that's unrivaled by any other competitors.
The Historical Evolution of Chinese Custom Cabinet Manufacturing Industry
Before 1990, China's cabinet manufacturing was in a poor state. Chinese traditional kitchen cabinets were mostly freelanced and handmade, with long production cycles with no mechanized equipment or large-scale manufacturing facilities like CNC machinery and computers that would speed up the production process. Sales were limited to within a short radius of the production site and units sold were low in comparison to today's standards. Cabinet manufacturers at this stage are Mainly based on small regional enterprises.
After the 1990s, with the production of pre-installed cabinets in China becoming more popular, the cabinet industry has evolved from a largely regionalized market into a market that is large enough to support mass production and set up production bases in multiple regions. At the same time, with efficiency improvements in manufacturing and the development of transportation, China's cabinet industry is seeing more large-scale production, but the individual design capabilities of cabinet makers are still relatively weak and the intelligence level is apparently low.
On the other hand, traditional cabinet retailing is inefficient and its distribution model/cost makes it difficult to build a solid sales channel. It generally takes about a year for a project to go from design, proofing, and dealer order to sales. Many of cabinet manufacturers are slow to respond to changes in consumer preferences, and their dealers have often been stuck stocking items with high inventory and cash hog status. At that time, the supply chain of the entire Chinese cabinet manufacturing industry was operating with low efficiency. All these factors led to the high cost of cabinet supply, which was eventually passed on to end consumers with an abnormally high markup rate. That in turn makes the industry highly opaque.
In terms of the export of Chinese cabinets, the quantity of exported kitchen cabinets had been reducing in those years, as OEM companies no longer have a competitive edge with regard to manufacturing. Additionally, these cabinet companies are also continuously having an impact on profit margins due to the value of their products. The industry as a whole has started to shift towards Southeast Asia.
Starting around the year 2000, customized kitchen cabinets began to become more popular in mainland China. Customized cabinets are made-to-order cabinets using modern information technology and flexible production technology, which allows them to be customized for any customer's needs.
Compared with handmade kitchen cabinets, custom-made cabinets have more stability in terms of quality and are also more environment-friendly. And compared with pre-assembled cabinets, custom kitchen cabinets offer many benefits over pre-installed ones. They allow for greater space utilization, provide a unified style for the whole house, and are backed by advanced landing services. The emergence of custom cabinets caused a huge change for homeowners as well as furniture companies, which set off a trend for reform in the Chinese furniture industry.
Since then, kitchen cabinets have evolved into an important and strategic part of the Chinese furniture industry. China's customized cabinet market is growing at a fast pace, with large companies taking advantage of greater productivity. At present, the growth rate of the customized kitchen cabinet industry is at around 15%-20% while the growth rate of the Chinese furniture industry is around 8%-10%.
How AI is Changing the Face of Chinese Kitchen Cabinets Manufacturers?
Flexible production is one of the benefits that AI technology can provide for Chinese kitchen cabinet industry. While China's kitchen cabinet  industry is also changing its way of production, the flexibility AI represents leaves no time for distraction and makes it possible to produce quality products at a greater speed. The rapid development of the Chinese custom cabinet industry is primarily due to the fact that companies can easily make personalized designs for kitchen products and carry out standardized production at the same time, which requires them to be flexible.
Due to the customizable "flexible" feature, Chinese cabinet manufacturers are able to meet the needs of individual customers and mass production needs simultaneously. The length and width of each cabinet board and the position of each nail hole affect installation success, even small differences in production discrepancies in a single step of the installation process may cause the entire cabinet to be defective. There are a lot of barriers between what the customer sees and what they get. If businesses want to succeed in this industry, they'll have to focus on error rates and breaking through these barriers.
Any type of high error rate has a number of negative impacts on the company, including increased construction days and delivery time. On top of that, a high error rate may cause profitability to decrease. Chinese furniture brands such as Oppein, Sophia, and NextHome are on the more accurate side of things in the industry with terminal installations getting an accuracy rate of about 70-80%. However, the average rate of one-time installations in China's cabinet industry is about 50%. This mainly depends on the company's upgrade of its flexible production line and its transformation of the AI system.
Different cabinet manufacturers use different degrees of flexible production methods. While some rely solely on staff, others utilize increased automation and online marketing to reach more customers. The manufacturing level of the Chinese custom cabinet industry has gone through three stages:
1. Order-by-order production.
China's kitchen cabinet industry had a very primitive order-by-order production model before the large-scale popularization of customized cabinets. It is one drawback to this method of production that the cycle is long. It also takes time before it can meet demand, so it can potentially be difficult to keep up with the output once demand picks up.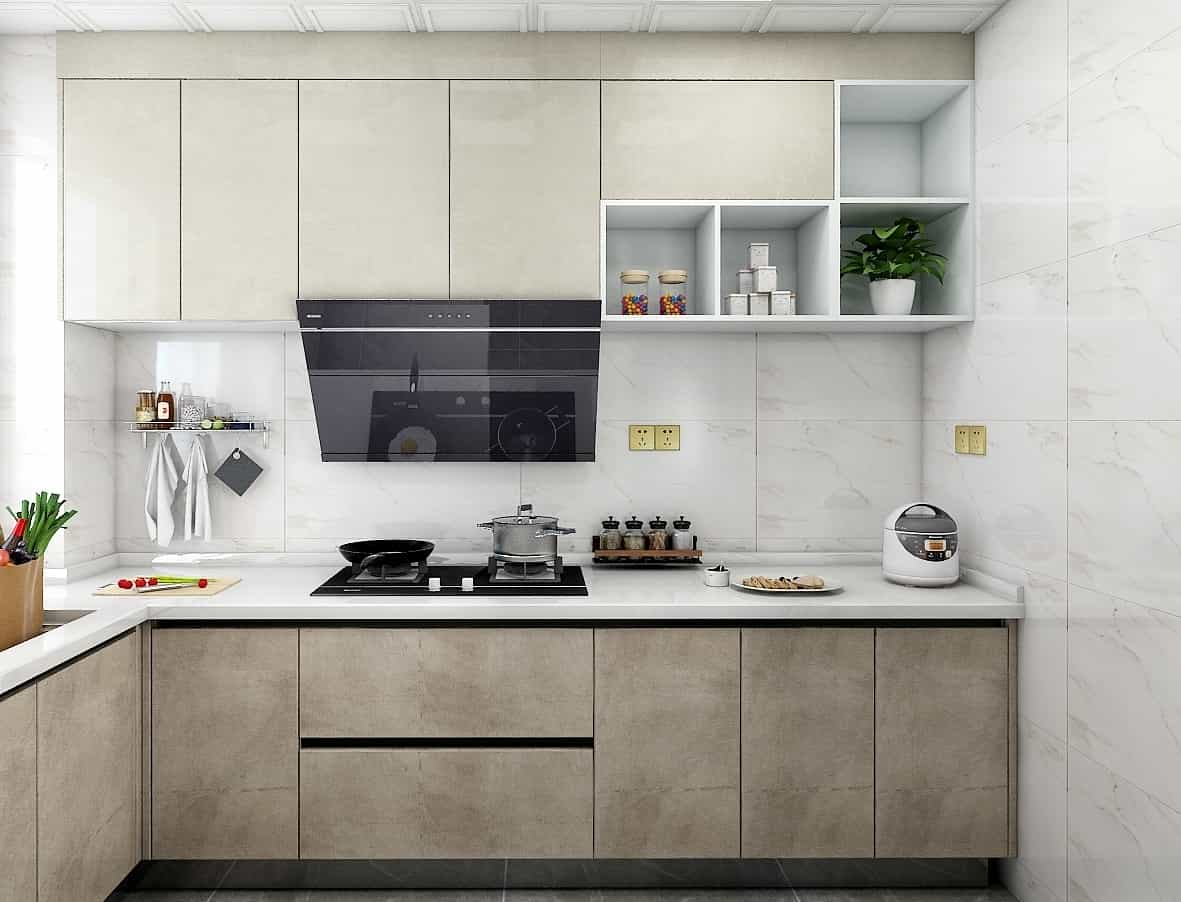 2. Standard parts and non-standard parts are made separately.
Once the kitchen cabinet company receives its order from the customer, it will first divide the order into standard parts and non-standard parts. They will then make both types of products separately in order to meet mass manufacturing needs. Standard cabinets and non-standard cabinets are essential for creating a design that meets the client's needs and is best suited to their specifications. The combination of cabinets is perfect for people who need to customize their kitchen with something that is stylish and functional. The use of this production method has brought improvements in the production capacity and output to a certain extent, but the quality of dismantling orders and efficiency-related tasks still needs to be improved.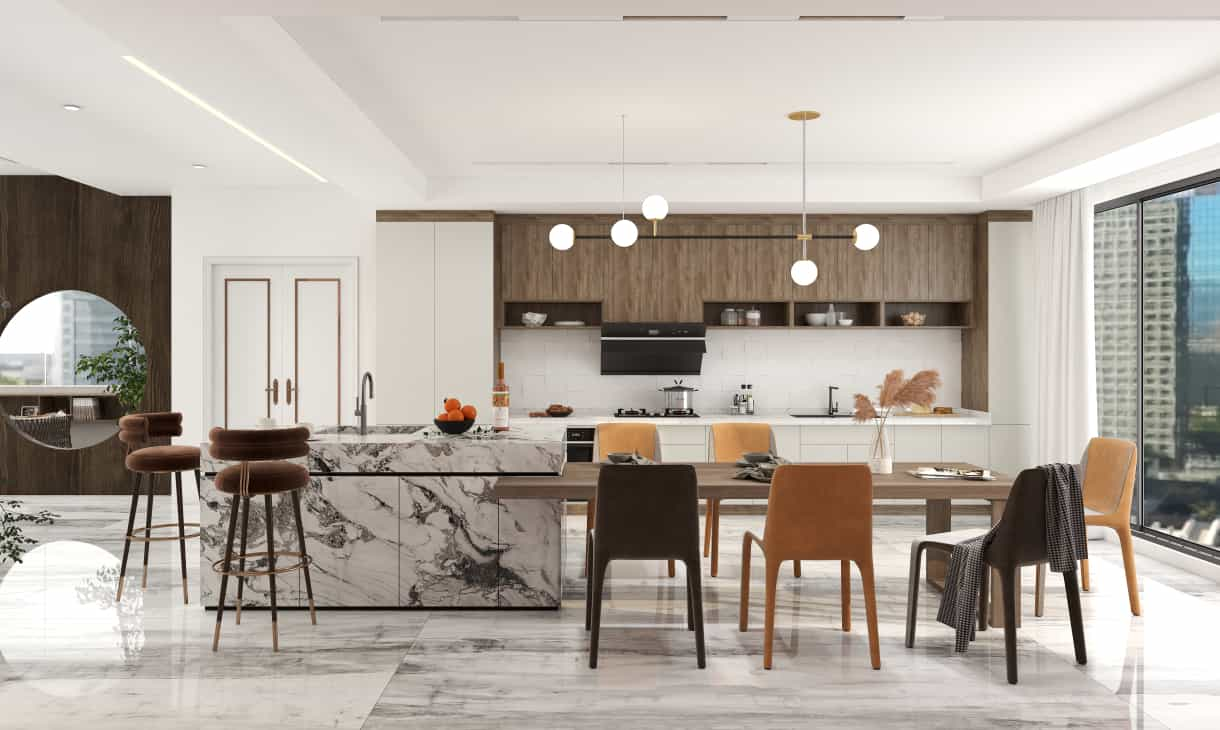 3. AI flexible production line.
When all of your products are non-standard parts, it is necessary to quickly change over production to mass customization. This requires the software and hardware systems must work together in order to produce best-in-class results. The software system can be used to accurately control the CNC machine, automatic edge banding machine, multi-functional sorting robot, and other production machines. As long as the data on the information system is correct, the production accuracy rate is at More than 99%.
For now, most of the custom-made cabinet manufacturers in China are stuck in the first or second stage of the manufacturing processes, while Oppein, Sophia, NextHome, and others have reached the third stage a few years ago.
From the beginning of material preparation for production, there are automatic manipulators to grab the boards according to the material list in the system, and automatically send them to the CNC machine for electronic automatic cutting. After passing through the automatic edge banding machine, regardless of the size, size, or color of the board, it can be placed on it to automatically switch the edge banding, which greatly improves efficiency. When the board is processed, the size of the board and the position of the holes are determined by scanning the QR code, and holes are automatically punched into the board. In this way, every process from veneer to intelligent board warehouse, cutting, edge banding, punching, and automatic packaging is produced as a different product.
The advancements in AI technology have allowed Chinese kitchen cabinet suppliers to save a lot of time & effort while also providing a competitive product. And price reduction strategies have helped their market share grow.
We are here to help you with your business needs. We have a team of experts who are always eager to help you.