When shopping for high-quality kitchen cabinets, it is important to look for pieces that not only provide stunning visuals but also offer functional and easy-to-use storage that will last at least two or three decades with proper care and maintenance. However, many people encounter cabinet problems much sooner than expected, such as crooked doors, drawers that are sagging and deteriorating, scratched and dented faces, hinges that are loose or coming apart, and boxes that are warping due to moisture or heat damage. Issues with low-quality kitchen cabinets can arise for a number of reasons, from poor construction to inferior materials and workmanship. These problems can range from aesthetics, such as a dull finish or misaligned drawers, to functional, such as doors that don't fit properly or shelves that sag under the weight of dishes. Beyond creating headaches for homeowners, these issues also cause unexpected costs in installation and maintenance due to high replacement rates and frequent repairs.
Cabinets are often constructed from plywood or particleboard. To ensure that they remain in good condition, it is advisable to use full plywood sides and backs for sturdiness during transport, countertop support and moisture resistance. Particleboard is a cost-effective solution for those looking for cheaper options. However, it is prone to damage due to exposure to moisture and weight, as well as hard-to-fix issues at places where screws and joints are used.
Plywood is known to have superior strength and stability compared to particleboard due to the way it is constructed. It consists of multiple layers of wood, running both lengthwise and crosswise, that are bound together with glue, creating a strong and durable material. This makes plywood an ideal choice for attaching screws and fasteners as it offers greater holding power than particleboard. Compared to particleboard, plywood shows a much higher tolerance for moisture, making it a must-have around areas with sinks, faucets, and running water. Additionally, plywood will bear weight over long periods of time and is much more resilient to damage including blow-outs, dings, and dents. This makes it an ideal choice for construction projects with higher durability requirements.
Particleboard is a composite wood material made by pressing wood particles together at high temperatures with glue and is commonly referred to by a variety of names such as medium-density fiberboard (MDF), engineered wood, hardboard, substrate, and furniture board. It has become increasingly popular as a durable material used for a wide range of furniture products due to its affordability, light weight, and versatility for cutting into different shapes. It can provide a sturdy, long-lasting surface but has important limitations – it doesn't typically expand or contract as the climate becomes warmer or colder but is more susceptible to damage caused by collision or moisture. The particles are heavier than natural wood, which means it does not have the same per-square-foot strength as plywood for instance. MDF can be used for many purposes but must be handled with care to ensure it won't become damaged over time. Particleboard cabinets often start to sag and become weakened over time, which can be identified by sagging shelves.
When it comes to cabinet back construction, the thickness of the plywood used and the type of backing panel are both important factors that can have a big impact on the overall durability and ease of installation. The highest quality cabinet construction typically uses a full-plywood, full-back panel measuring 3/8-inch or more in thickness for maximum strength and stability. For more economical methods of kitchen cabinet construction, thin panels, metal hanging rails, brackets, and rails can be used in conjunction with picture-frame construction. Although this method may be cheaper in cost, it is important to note that weak back panels can result in your cabinets falling or becoming inaccurate. To ensure secure and precise kitchen cabinets, it is recommended to use plywood back construction for added strength and stability.
For the most durable cabinet construction possible, it is recommended to use solid, full-height plywood for the cabinet's backing panel. This panel should be relatively thick (3/8 inch or more) and have a full plywood back, which ensures that the cabinet can be securely attached to wall studs at any point along its back. The strength of plywood is distributed evenly across its entire surface, meaning that there is no need for additional hanging rails to support it. If any cuts need to be made in the plywood, such as for wiring or plumbing, it will generally still remain strong without any extra reinforcements due to its balanced strength distribution.
One way to save money on cabinet back construction is to use thin-panel frames, metal hangers, and picture-frame construction. In some cases, the back panel is completely omitted so that the wall can be seen, while in other cases there is a 1/8-inch to ¼-inch particleboard panel that is installed and runs the full height of the cabinet. For rail sections that need to be cut for wiring/plumbing, additional support is required to maintain structural integrity.
Kitchen cabinet hinges are crucial for the overall functionality and structural integrity of the cabinet. They hold the doors in place and help keep everything running smoothly. – without them, you can't open or close the doors! Choosing inferior cabinet hinges can result in stiff, loose, or uneven doors, or even worse – doors that won't close properly. Quality hinges are essential to ensure that your kitchen cabinets function efficiently and look great.
A quality cabinet hinge should be designed for long-term durability and feature a soft close mechanism built into the nickel-plated, hardened steel construction. The hinges should also be adjustable in six different ways, including in-out, up-down, and left-right so that they can easily accommodate any seasonal changes in humidity or temperature that can cause cabinet doors to shrink or expand. When purchasing kitchen cabinets, it is important to ensure that they are using high-quality hinges. Blum and Hettich hinges are some of the most popular choices for quality cabinets. Both brands offer standard full-overlay, and inset concealed hinge door hinges that are six-way adjustable, making them suitable for all types of cabinetry. Furthermore, these hinges have been tested to ensure they can stand up to constant use and meet or exceed the American National Standard Institute's stringent requirements. As such, they provide peace of mind in terms of their durability and reliability.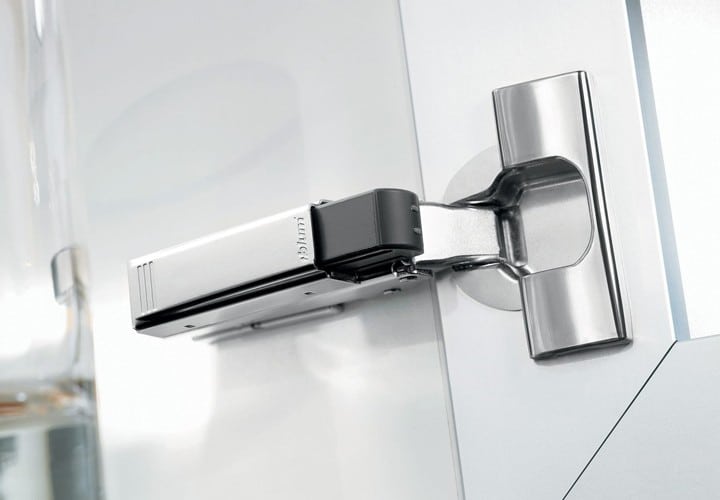 There are an overwhelming number of hinges available on the market for kitchen cabinet manufacturers to choose from. Be sure to do your research and be wary of cabinet manufacturers that use low-end hinges that only provide four-way adjustability, as these often don't last long and won't provide the level of support that is necessary. Additionally, look for a lifetime warranty with any product you purchase as this will ensure that any issues you may have with the product can be addressed properly and promptly.
Drawer glides are essential for the smooth and noise-free opening &closing of cabinet drawers over extended periods of time. A high-quality model is necessary to ensure that the drawers move uninterruptedly. If your drawers are loaded with heavy items, you will need to invest in high-quality glides for the drawers. Weak or inferior glides can result in sagging, loose, or stuck cabinet drawers.
Undermount drawer glides with steel and soft-close features are designed to extend fully so that users can access the entirety of the drawer without any obstruction. Whilst ball bearings and steel guides are installed to ensure a maintained smooth movement and longer use. Mounted beneath the drawer box, the glides should be rated to securely support a heavy load of at least 90 pounds. The best choice would be adjustable glides with a soft-close (anti-slam) dampening system, as this will ensure near-silent operation when opening and closing the drawer.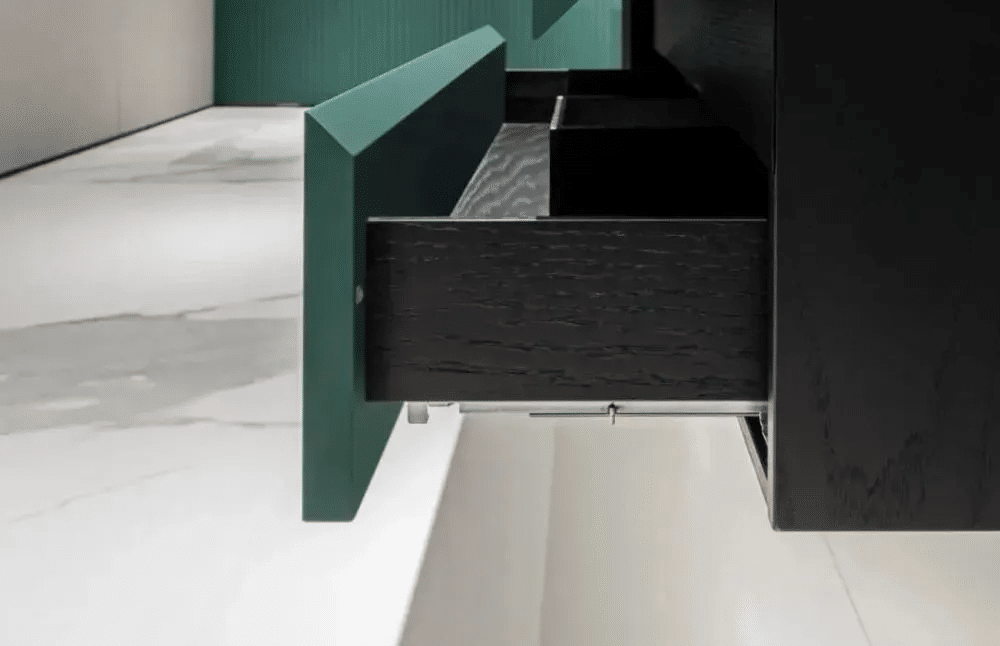 Cabinet manufacturers often have hundreds of different drawer-glide systems and mechanisms available to choose from, all of which can vary greatly in terms of cost, durability, and ease of installation. Depending on the application and budget, there is likely a wide range of options for any given project. Each system has its own set of advantages and disadvantages that need to be taken into account when making a selection. A typical construction method often utilizes metal surfaces that are coated with epoxy along with plastic rollers to provide a robust, long-lasting solution. However, these materials tend to wear down over time and need frequent replacements. Center-mount and side-mount glides are not the ideal solutions either as they rarely provide full access; Nearly a quarter of the drawer is inaccessible as it remains within the cabinet frame, making it hard to access items located at the rear. Side-mounted glides, while highly convenient, have the downside of reducing the internal drawer space due to their slim profile. As a result, they tend to not be compatible with soft-close mechanisms and are usually found at the lower end of the quality spectrum. On the other hand, center-mounted wooden or metal glides sliding through a plastic brace on the cabinet provide more storage area but lack stability and reliability compared to side-mount glides.
If you're noticing that your drawers are becoming distorted, weak, and unable to hold their shape or if the fronts of the drawers are starting to sag or fall off, then it's a clear indication that you should replace them with higher quality drawer boxes. Not only are they more attractive and better able to withstand everyday wear and tear, but they will also last much longer than their lower-quality counterparts. When it comes to kitchen cabinetry, one of the first things to fall apart due to low-end construction is drawer boxes and joints. Typically, these types of cabinets are not made with strong, long-lasting material and are secured with staples or butt joints rather than something superior like the dovetail joint which includes interlocking teeth that mill into the drawer box sides for increased strength and durability.
•Hardwood Dovetail Drawer Box
American cabinetry is renowned for its use of solid hardwood drawers with dovetail joints and heavy plywood bottoms. The strong, attractive joint makes the cabinets long-lasting and ensures a high level of quality. To ensure durability and a high-quality build, hardwood drawer boxes should have sides made of 5/8 inch or thicker solid maple or birch, joined by dovetail joints. This jointing method allows the strength of the construction to rely on the wood itself. A plywood drawer bottom is best attached by using dado (grooved) joints on all four sides. This should then be glued and nailed using strong adhesives & nails for a secure fit.
•Other Materials & Construction
Cabinet drawers can be made from a variety of materials, including particleboard, plywood, metal, and plastic. Depending on the type of material used and desired level of quality, construction methods can range from simple butt joint joinery to advanced dovetailing techniques to ensure a strong and long-lasting result. Lower-quality drawer boxes are typically constructed with butt or rabbet (notched) joints and held together with staples. These may have thin, low-grade particle board pieces used for their drawer bottoms, which provide minimal weight capacity and are prone to degradation over time.
Fully assembled cabinets are the ready-to-go option for homeowners and contractors, as they are completely assembled at the factory, boxed, and shipped in a ready-to-install state. On the other hand, Ready-to-Assemble (RTA) cabinets require some assembly by the consumer who can save money while also gaining convenience by assembling them themselves. The construction strength of fully assembled cabinets is usually higher than RTA due to the quality control standards at factories.
Pre-assembled cabinets are not only sturdier and last longer, but they also require less time and effort to set up. Fully assembled cabinets typically use a variety of techniques to join wooden components, such as dovetail joints, hot and cold gluing, power fasteners, etc. This kind of wood-to-wood construction enhances the strength of the product by creating micro-connections between each part. Cabinets are ready to be assembled and installed, as they come pre-packaged with everything intact – including doors and drawers.
RTA (Ready-To-Assemble) cabinets come in separate parts for assembly on-site and are a cost-effective option for those short on budget. Nevertheless, putting together these individual pieces can be quite a lengthy process. Due to the limitations associated with building cabinets at home, RTA (Ready-To-Assemble) cabinets are generally not as strong and durable as those that have been expertly assembled in a factory. This is because a manufacturer's factory-level assembly methods are able to provide a higher level of precision and quality assurance which results in more robust construction than when done by hand.
Custom kitchen cabinets can be modified to fit in your available space, with various sizes, styles, and features available to suit exactly what you need. This allows for maximum customization in order to get the perfect look and layout for your unique kitchen. These modifications can range from adjustable shelving, pull-out drawers, built-in organization systems and even lighting solutions with endless options available. Many homeowners are finding that stock manufacturers offer too few styles and sizes of cabinets to choose from, and fully custom cabinet manufacturers often come with a hefty price tag. Fortunately, there is a middle-ground solution that can offer more customization without the high cost: semi-custom cabinets with modifications. These cabinets allow for more personalized designs and sizes than stock options but still maintain affordability.
Semi-custom cabinets offer great value for money, as they provide a lot of options in sizes, styles, and even specialty cabinets where customization is required. They are also very competitively priced. The manufacturer reduces production costs by constructing kitchens as personalized projects, utilizing a basic cabinet line as a starting point. This enables customization at various levels, but it is limited to certain types of cabinets only.
Semi-custom cabinets offer a wide range of possibilities for homeowners, allowing them to make small modifications such as 1/8-inch incremental adjustments in cabinet box sizes, finished interiors, beadboard ends or interiors, glass-ready open-front or mullion doors, storage units with shelves and drawers, angled end cabinets for corner placement, and other unconventional uses of standard cabinet boxes. With semi-custom cabinets, it is now possible to find the perfect fit for any room and style. With those options, An experienced kitchen designer can help you customize your space to a great extent with the available modifications. This will give you a highly personalized kitchen.
Kitchen cabinet interiors need to be designed with durability and ease of maintenance in mind. The surfaces should be non-porous, smooth, and easy to clean. They should also be tough enough to withstand the daily wear and tear of a busy kitchen without staining, bubbling, or showing any signs of wear over time. Additionally, the interior surfaces should complement the exterior style of the cabinets for a cohesive look.
Melamine and laminate are two distinct materials that share many similarities. They boast great resistance to moisture, making them ideal for use in cabinet interiors. Most of these surfaces come with a light-toned wood grain print for an added touch of sophistication.
Wood is inherently porous and rough. As a result, it can absorb moisture and liquid stains easily, as well as trap dirt in the wood grain which is difficult to remove. A wood veneer or shelf surface that has been stained will make this problem even worse. Strong cleaning substances should be avoided while dealing with wooden veneers as the finish won't be able to withstand them. Moisture, fumes arising from oily cooking, dirt, and food particles could also damage the veneer if not taken care of properly.
Melamine is an incredibly durable material that is highly resistant to fire, water damage, and any type of staining or discoloration. Its hard surface can be safely cleaned with strong household solutions or solvents and its smoothness makes it ideal for use as a shelf or cabinet lining. That same smoothness also allows for easy wiping clean should there be any spills or smudges on the surface.
The toe kick area is the space located at the lower part of the cabinet where it meets and connects with the floor. A toe kick is a critical component of cabinet construction that should be fully enclosed and reinforced with a combination of dado joints, glue, and nails for maximum strength. This should be integrated into the full-length back panel and cabinet sides to provide additional security. Once installed, a finished toe kick panel can be applied to complete the look and create an aesthetically pleasing result.
Cabinets with plastic legs are not as strong or stable as those that have a full box and require an additional toe-kick panel in order to provide additional support and prevent dirt and small items from becoming trapped beneath the cabinet. Additionally, the plastic legs may not be able to bear the same amount of weight as a full-box cabinet, meaning that if heavy objects are stored inside, they may cause instability and potential damage.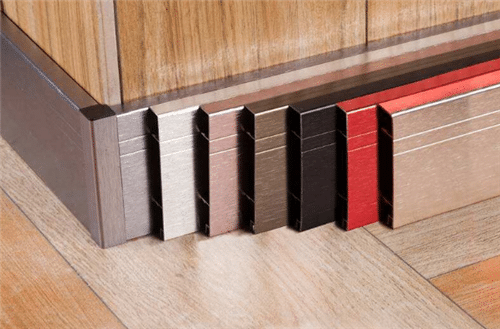 Many RTA cabinets come with four plastic adjustable feet that can be adjusted according to the surface they are placed on. Some brands may offer stainless steel feet as an optional upgrade at an additional cost. The open space under the cabinet must be covered by a snap-on toe-kick cover, while an open front cabinet needs an extra wooden toe kick panel for protection.
Installing a kitchen cabinet with plywood back panel and sides allows for the creation of a toe-kick panel which provides support and adds stability. The full-length plywood ensures high quality and durability. To ensure sturdiness and durability, high-quality cabinetry is typically constructed with fully-captured dado joints, hot glue, and other durable materials. After completion, the cabinets are fitted with a decorative panel to provide them with a finished appearance.
Knowing the warranty details of a product such as a cabinet is an important way to gain insight into the cabinet manufacturer's confidence in their own product and how much they are willing to back it up. While the warranty alone doesn't indicate the quality of the cabinet, it does provide you with an indication of how far they are willing to stand behind their product, should anything go wrong. If a kitchen company is confident enough to offer a lifetime warranty on their cabinets, then that implies that they have absolute faith in the quality of the product, and stand behind it for years to come. On the other hand, if there is no warranty provided at all, then you can draw your own conclusions about what that could potentially mean for the longevity of your cabinet purchase. Cheaply-made cabinetry often starts to show signs of wear and tear after just 5 to 10 years of use, at which point most warranties may have already expired. This is why it is essential to invest in quality cabinetry that will last longer, allowing you to enjoy the convenience and functionality of your kitchen for many years without having to worry about replacing broken or damaged pieces. Kitchen cabinets are one of the biggest investments you will make when outfitting your home and, as such, a lifetime warranty can be the assurance that your investment won't go to waste. Such warranties can give you peace of mind that your cabinets will remain in pristine condition throughout the entire time that you reside in your home.
•Lifetime Limited Warranty
A lifetime limited warranty is an assurance given by the kitchen cabinet makers that they will stand behind their product and guarantee the operation of the cabinetry for as long as the original purchaser owns it. This type of warranty typically covers any form of repair or replacement of the product if it fails to meet expectations or becomes defective due to normal use.
•Short-term or No Warranty
When looking for cabinets, a vast majority of kitchen cabinet manufacturers in the market usually offer their customers one-, five-, or ten-year limited warranties on their products, while some offer no warranties at all. It is important to be aware of the warranty period when choosing cabinets, as those with no or minimal warranties could mean that there will be no recourse for the customer should the cabinets fail at any point in time. Therefore, it is wise to conduct thorough research before making a long-term investment in cabinets.
We are here to help you with your business needs. We have a team of experts who are always eager to help you.